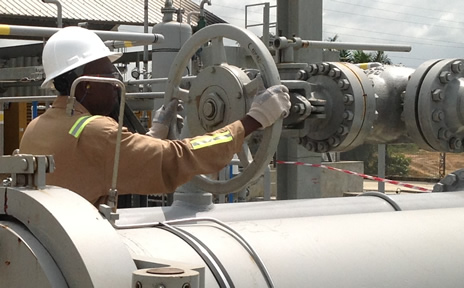 In Chesroc, we strongly believe there is always a better way to save our customers crucial time and money and have patented several ground-breaking products to do so.
Our Torque and Bolting services is a subsidiary of Chesroc Nig. Ltd which offers globally-available, first-class, on-site hydraulic bolt tightening services from a simple bolt-up of a single flange connection or nipple up/down to maintenance and major-shutdown site services. We utilize only the best equipment and tools to deploy a "First-Time, Right-Time" service in the industry.
Our Torque Tools cover a full range of sizes from 1/2" to 5" studs and 7/8" to 7-5/8" a/f nuts, Enerpac Hydraulic Pumps, Hydraulic and pneumatic wrenches, Enerpac Hydraulic Nut Splitters, Enerpac Hydraulic Flange Spreaders.
Torque capacity is from 20 lb/ft (34 N/m) to 10,000 lb/ft (80,524 N/m) with manual and hydraulic equipment. We offer Hydraulic Torque Tools with both air and electricity-driven power packs which can be used within hazardous environments such as off-shore platforms, eliminating the need to shut down.
All Chesroc's Torque Tools are tested and supplied with applicable test or calibration certificates.
Torque and Bolt operation includes:
Safe replacement of bolts during Online Operations
Hydraulic nut splitting of bolts (Rather than using Flame to cut)
Flange spreading and alignment in prior bolting.
Provision of skilled personnel for the torque and hot bolting services.
We cover a wide range of operations including:
Productions Rigs
Drilling Rigs
Consumer Manufacturing Companies.
Refineries
Constructions Companies etc.
Client
We have worked for the following organization which includes amongst others:
Langley 112 for AMNI Petroleum Development Ltd - 2003 to date.
Gbaran Ubie for Shell Petroleum Company - 2012 to date
Exxon Mobil Production Platforms - Shut-down operations - 2008 to 2011:

Usari production platform
Idoho production platform
Yoho production platform
Ekpe production platform
Oso production platform
Edop production platform
Other Services